ΑΝΑΚΟΙΝΩΣΕΙΣ
GREEK-US COLLABORATION IN HIGHER EDUCATION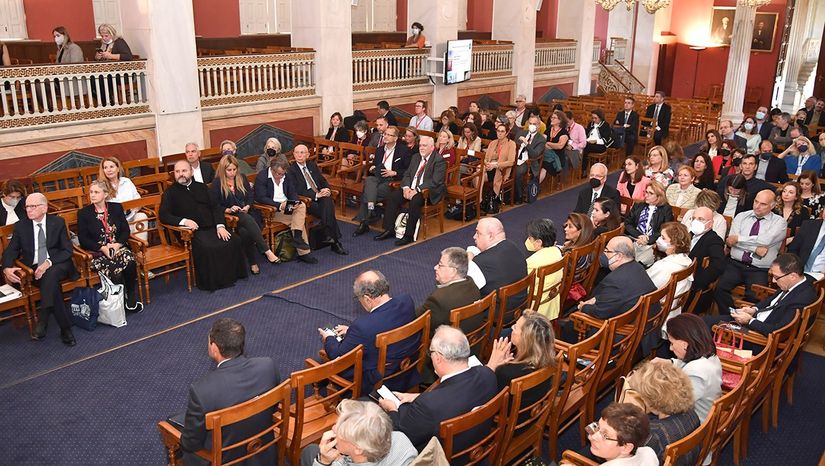 On November 5-12, 2022, following a Ministry of Education initiative, representatives from 30 American Universities visited Greece in order to explore collaboration opportunities with Greek Universities.
On November 6, the opening event for the Greek-American Cooperation in the field of Higher Education, "Pharos 2022", took place at the Stavros Niarchos Foundation. Government officials, members of the Rector's office, University faculty members, as well as students were present and were given the opportunity to discuss both the various milestones already achieved by Greek-American collaborations, along with future opportunities and possible partnerships.
On November 7, the National and Kapodistrian University of Athens Rectors' office, School Deans, Heads and members of faculties welcomed the representatives of the US Universities to the Great Hall of NKUA. Our Rector, Professor Meletios-Athanasios Dimopoulos, alongside five University representatives, gave a presentation on NKUA's international activities and relations, as well as on possible fields of further development of the existing joint actions. Furthermore, BAAG's academic director, Professor Em. Eleni Karamalengou, gave a presentation on the originality and special features of the 'BA Program in the Archaeology, History, and Literature of Ancient Greece' (BAAG). Professor Karamalengou elaborated on the nature of the expected collaborations between BAAG and the USA Universities, with a focus on study abroad agreements and summer schools. Our Program already carries out a number of collaborations with major USA Universities, namely the University of Cincinnati as well as Boston University, with the organization of the recent "Voyage into Greek Civilization" summer school.
Subsequently, the Chief Executive Officer of the Institute of International Education (IIE), Dr. Allan Goodman, gave a speech on behalf of the American delegation. This talk was followed by a discussion between Greek Professors and US Universities representatives, several of whom are of Greek origin.
As the oldest educational institution in Greece, National and Kapodistrian University of Athens has a long tradition of international exchanges and cultivates strong bonds with several American Higher Education Institutions.