ΑΝΑΚΟΙΝΩΣΕΙΣ
WELCOMING CEREMONY 2022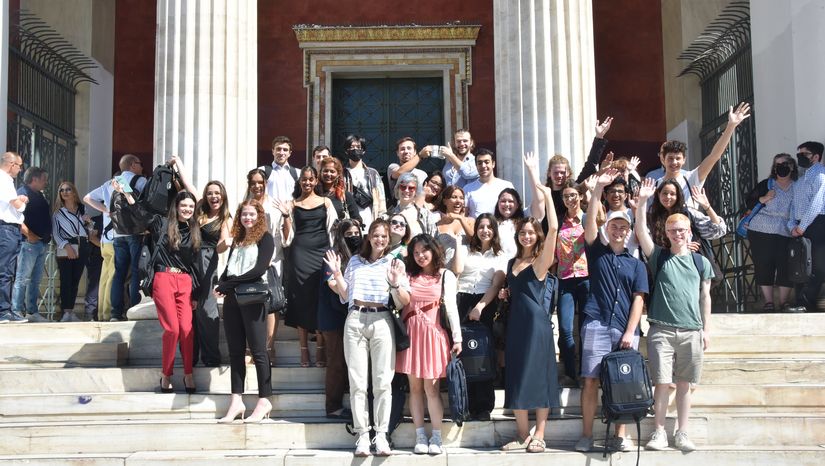 On Thursday, September 29, 2022, the Welcoming Ceremony for the students of our "BA Program in the Archeology, History, and Literature of Ancient Greece" took place in the Great Hall of the National and Kapodistrian University of Athens. This year, we were also joined by freshers in the English-taught undergraduate "Medical Degree" of NKUA.
At the beginning of the event, students of both Programs were addressed by the Minister of Education and Religious Affairs, Ms. Niki Kerameus, the Deputy Minister of Foreign Affairs, Mr.Andreas Katsaniotis, the Rector of NKUA, Professor Mr. Meletios-Athanasios Dimopoulos and Professor Emerita Ms. Eleni Karamalengou, Academic Director of BAAG and former Dean of the School of Philosophy.
In her speech, the Minister of Education and Religious Affairs Niki Kerameus underlined the extroversion of Greek Universities as well as the importance of international academic partnerships as an absolute priority for her Ministry. The Rector of NKUA, Professor Meletios-Athanasios Dimopoulos, welcomed the students, stating, among other things, the following:
"Your joining our University comes with a lot of expectations on your part, your parents and friends, some of which we have the honor to have with us today. All of us want to see you succeed in your studies. I encourage you to enrich yours and other students' experience. Be on the lookout for new knowledge and everything that a foreign, historic University and a cultural city have to offer. The first months may be demanding; you will find yourselves in a foreign country, study there, and start getting accustomed to a new culture. But by actively participating in our academic community, you will meet new people, learn things, and gain personal experiences you will keep for the rest of your lives. But it is not only you that will benefit from all the above; every time you return home for the holidays, you will bring a whole new set of experiences and perspectives to your family and friends. I also encourage you all, at the end of every semester, to give us your opinion as to what inspired you, what worked well, and what could have been better."
Professor Emerita Ms. Eleni Karamalengou, Academic Director of BAAG, stated, among other things, the following:
"The Program has entered its third year of academic operation. We can confidently and without any exaggeration say that the Program is already becoming an impressively dynamic and successful course. It has a renewed legal framework, it enriched the number and strengthened the variety of its seminar courses, it introduced the mandatory participation of students in excavations that is an unsurpassed experience for every aspiring archaeologist, and it already enjoys international recognition. BAAG has signed bilateral agreements with renowned foreign universities and their students spend one year of study abroad at our university and in the Program, as Southwest University (SWU), P.R. China, University of Cincinnati, (UC), Ohio, U.S.A and Northwest Normal University (NWNU), P. R. China."
The event ended with the presentation of souvenirs to the students.