ΑΝΑΚΟΙΝΩΣΕΙΣ
"VOYAGE INTO GREEK CIVILIZATION" SUMMER PROGRAM INAUGURATION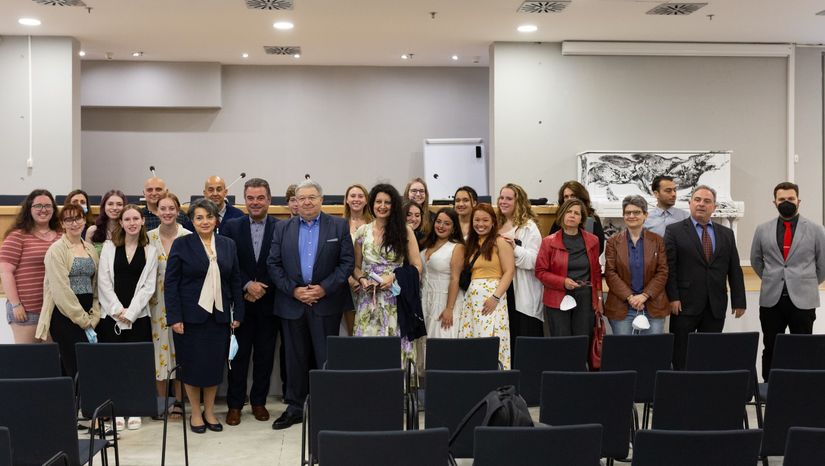 The "BA Program in the Archaeology, History, and Literature of Ancient Greece" (BAAG) of the National and Kapodistrian University of Athens, the first English-taught undergraduate program in Greece inaugurated its first summer educational program named "Voyage into Greek Civilization", in collaboration with the Department of Classical Studies at Boston University (USA) and Study in Greece (SiG).
The program's welcome ceremony took place at the auditorium of the Modern Greek Language Teaching Centre on Friday, May 20, on the Zografou Campus. Students from the U.S. Boston University would be given the opportunity to enhance their knowledge of Classical antiquity and get acquainted with Modern Greek culture till June 19, through language, culture and philosophy courses, which are to be held at the School of Philosophy, the Modern Greek Language Teaching Centre, as well as some of Greece's most important places.
The students were welcomed by Prof. Achilleas Chaldaiakis, the Dean of the School of Philosophy, Prof. Eleni Karamalengou, the Academic Director of BAAG and Head of the Modern Greek Language Teaching Centre, as well as the President of SiG, Prof. Christos Michalakelis. The event was attended by the Secretary General for Greeks abroad and Public Diplomacy, Prof. Giannis Chrisoulakis, who expressed his enthusiasm for the project, while messages were addressed by the Rector of NKUA, Prof. Thanos Dimopoulos, and the Secretary General for Higher Education at the Greek Ministry of Education and Religious Affairs, Apostolis Dimitropoulos, who both emphasized the commitment of NKUA and the Ministry to the internationalization of Greek Higher Education.