ΑΝΑΚΟΙΝΩΣΕΙΣ
HERACLITUS' FRAGMENTS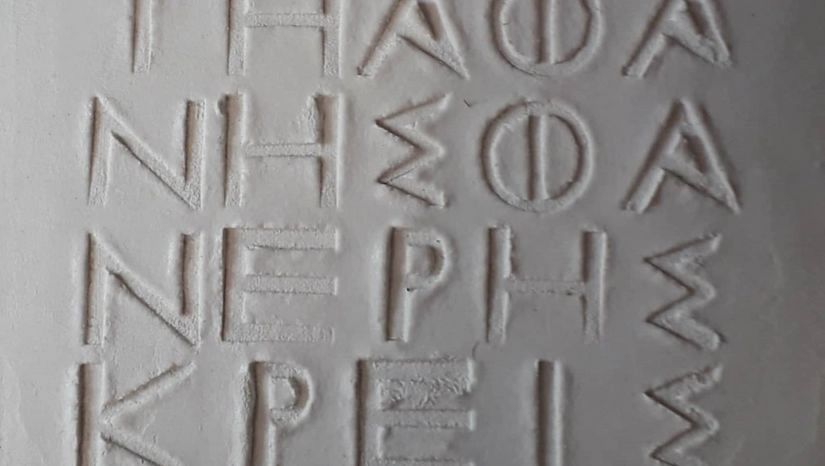 An exceptionally important artistic intervention was accomplished in the School of Philosophy of the National and Kapodistrian University of Athens (NKUA), from 27 December 2022 to 7 January 2023, under the care and guidance of Mr. Dimosthenis Avramidis, Associate Professor in the Athens School of Fine Arts. This included the construction of a wall inscription with almost all of the surviving work of the pre-Socratic philosopher Heraclitus. The intention of the artwork is the creation of a wall inside the School of Philosophy building which pulsates with writing according to the ancient Greek epigraphic practice, a piece in the form of artistic graffiti, dedicated to one of the forefathers of Philosophy.
The dimensions (2X6.40 m) of the wall on which the work was depicted are fitting for the inscription of the entirety of Heraclitus' oeuvre in an arrangement of 55 rows horizontally by 155 vertically, given that the surviving 128 passages consist of 9,155 letters, with dimensions 3X3 cm. for each character, so that it can be read from a distance of at least 2 meters. It was decided for the arrangement of the quotations not to be serial, but for each quotation to occupy its own rectangular frame with a margin, and the overall feeling to consist of composed parallelograms of distinct quotations arranged in space based on harmonious engravings. The inscriptions were created with symmetry and homogenization of the writing with densely spaced letters, so as to give prestige and gravity to the text.
Our professor Sophia Aneziri, Associate Professor in our program, has also offered her valuable contribution to the creation of the art piece, as an advisor on the design of the font used, found in 6th century BC inscriptions.