ANNOUNCEMENTS
THE CHINESE AMBASSADOR TO GREECE CELEBRATES THE CHINESE NEW YEAR WITH OUR STUDENTS AT THE LIBRARY OF THE SCHOOL OF PHILOSOPHY OF THE NKUA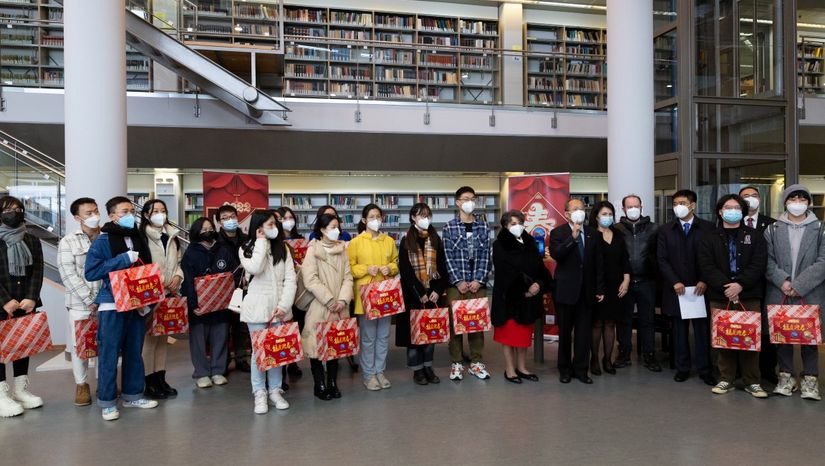 As part of the Chinese New Year celebration, the new Ambassador of the People's Republic of China to Greece, Mr. Xiao Junzheng, met a group of Chinese students from our University on library premises of the school of Philosophy, on Saturday January 29, 2021 and wished them 'Happy New Year', with all measures for the prevention of the Covid-19 being in place. The Ambassador was accompanied by members of the Chinese Embassy, including the Education Attaché, Mr. TIAN Lei. He was welcomed by Professor Emerita Eleni Karamalengou, who is the academic director of the undergraduate "BA Program in Archeology, History, and Literature of Ancient Greece", former Dean of the School of Philosophy and current Head of the Modern Greek Language Teaching Centre.
The Ambassador offered students a bag of gifts from their homeland, including souvenirs from the Winter Olympics, and encouraged them to take advantage of the valuable experience of studying in Greece, as well as to work hard and make their country proud. In his speech he referred to his admiration for Greek culture, the importance he attaches to the studies in the Greek University for Chinese students, while he admired the intellectual wealth of the School of Philosophy Library. He specifically expressed his gratitude to Professor Eleni Karamalengou for the creation of the School of Philosophy courses that welcome students from Chinese universities, as well as the support offered to the English-taught BA program students.
Prof. Karamalengou highlighted the close relations between Greece and China in the fields of education and culture, and the exceptional performance of Chinese students in various educational programs. She also conveyed greetings of the Rector Professor M. A. Dimopoulos and the Dean of the Philosophy Professor A. Chaldaiakis.
The event was covered by the Chinese national television network CCTV, and other Chinese reporters, while our own Mary Tsouloufa was in charge of the photographic material produced.